If you love skiing/snowboarding, we have the greatest snow on earth. If you love Mother Nature, we have 5 national parks and 7 national monuments ready for exploration. Utah has a very diverse landscape with the mighty Rocky Mountains, Great Salt Lake, Coral Pink Sand Dunes, over 2,000 freshwater lakes, and the famous Utah Salt Flats just to name a few. With so many things to do, you'll love moving to Utah.
Utah is known for its four distinct seasons, cold, snowy winter, and a hot, dry summer with relatively wet transition periods. Utah is home to several breathtaking mountains, rivers, plateaus, and canyons that make it a prime tourist destination.
Utah's economy is powered by several leading industries including Advanced Manufacturing, Aerospace and Defense, Energy and Natural Resources, Finance, IT/Software, Life Sciences, and Outdoor Recreation. Utah has been ranked as the #1 state for the economic outlook in the country for the 15th year in a row (ALEC-Laffer State Economic Competitiveness Index).
If you're considering moving to Utah and wondering if the state is the right place for you or not, we have collated key things you should know about the state to make the right choice.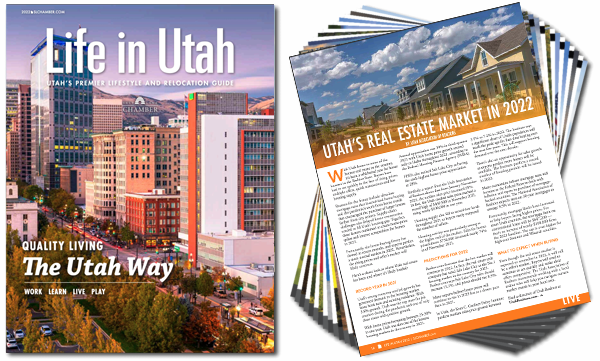 FREE UTAH RELOCATION GUIDE
To make your relocation decision even easier, the Life in Utah publication provides useful information about our amazing area. The guide offers newcomer information on housing, education, transportation, business, and more.
Request Your Free Utah Relocation Guide
Kris and his team recently help us sell our home and we couldn't be happier! From the beginning, Kris was helpful, professional and fun to work with. He is also a true expert in real estate and has great connections, which made the whole process easy and seamless. He was only supposed to sell my home while we worked with another agent to buy a home; but Kris ended up helping us more than selling our home because he was prompt, diligent and most of all, really good at what he does. He made sure that we understood every step and that we were very well taken care of throughout the process. We also managed to work with one of his teammate, Tristan, and he too, was very helpful, prompt and knowledgeable! I truly will never work with anyone else in real estate but Kris and his team!
Cindy Chia
This is the second house I have had Kris Bowen sell for me in the past 2 years. When I knew I needed to sell the first house, I did some serious research in looking for a realtor and narrowed it down to Kris. After that, every part of the process was made perfectly easy for me. Kris and his team are incredibly professional. The system he has set up to market the house and make the process of closing smooth is amazing. Everything from brochures to the sign to the pictures taken of the house to the advertising is beautifully done. Kris is helpful, personable, and professional, and responds quickly to every question and need. And above all else, he gets amazing results. Both houses sold quickly and for above what I was asking. And once the house is sold, the process of closing is so easy and professional.
Anna Freeman
Kris recently helped me sell my house. He came to our initial meeting, before I had decided for sure to go with him fully prepared. He had created a market analysis based on similar homes that had recently sold in the area and knew (conservatively) what we could list my house at. He didn't leave that initial meeting until he was confident that I was fully understanding of what the process would be, what potential fees we would encounter during the selling process, and generally what to expect. Unfortunately we had two separate buyers withdraw on the house (through no fault of Kris) but he was always there with a timely update and a plan of how we should proceed. From start to end, I was confident in Kris' ability to sell the house and in his knowledge of the current market. This confidence in him paid off as he was able to sell my house for $15,000 more than we were originally asking.
Tiffaney Carter